Newline Q Series - Distributor - Interactive Whiteboard Display
The Q Series by Newline is a high-performance interactive display solution that offers a more customized and fast-paced digital touch experience. Whether you're using it for work or class, you need a touch display that can keep up with the latest advancements in technology. That's why the Q Series is your top choice for a highly customizable and peak-performing digital collaboration hub.
(Optional slot-in Newline 4K AI Auto Tracking Camera - click here)
*African export clients please request special pricing (for customers outside of South Africa)
Select Screen Size

Quantity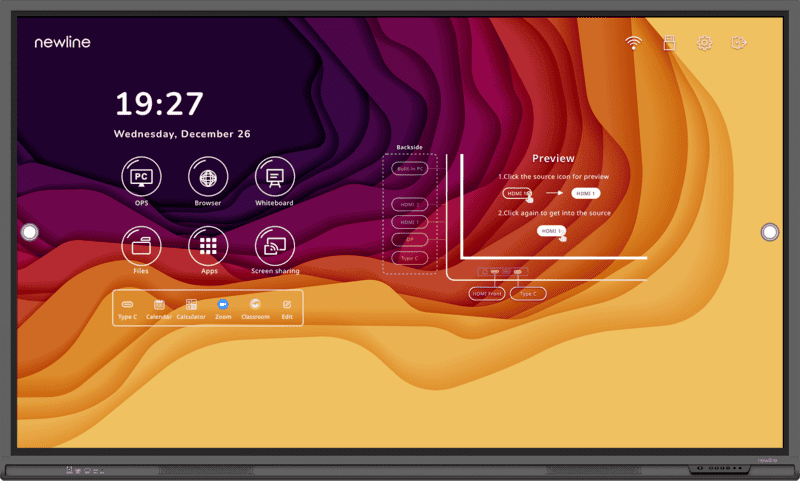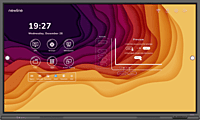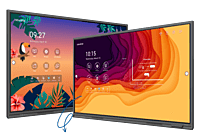 Newline Q Series now features USB Type-C with 65W power, antimicrobial surface, secure Android 11 OS with user profiles, Newline App Store, better connectivity with Wi-Fi 6, embedded 20W speakers, camera module capable (optional), and compatibility with all devices.
Skip the setup frustration and get right to work with plug & play USB-C. No need to worry about finding the right cables or troubleshooting connectivity – simply connect one cable and start working. With plug & play USB-C, you'll get instant access to audio, video, and 65 watts of power.
Experience faster performance with Android 11, the secure onboard operating system that lets you connect to familiar cloud services like Google Drive and OneDrive with confidence. Plus, enjoy compatibility with your favorite interactive display tools.
With over 100 fully compatible tools for education and business, our curated app store is constantly growing. Get started today with your favorite apps, also the Newline including Google Suite, Starfall, Kahoot, AP News, Microsoft Office, Udemy, and more! You can also use Newline Display Management Plus to disable optional apps.
Eliminate the issues of device and user switching with user profiles. Save home screen and settings for individual users, and make the interactive experience more customized by creating profiles for teachers, students, departments, or display usage types.
Touch that Inspires & Protects:
Collaborate like never before with analog writing and digital tools that make communication more effective. With Newline interactivity at the core of our product's development, we integrated tools that make touch a must-have feature for daily interactions. The Newline Q Series makes it relevant, intuitive, and safe for all.
Complement the strengths of our software with our latest innovation. Inspire your audience and collaborate with ease on software built for you. Prioritize content sharing, device management, and time saving for an efficient interactive experience.
Enjoy smart connectivity through diverse ports and wireless compatibility. The diversity in connection ports provides excellent options for all types of devices, making the interactive display more accessible to all users. Use the front and back ports to mount the panel in any situation, and rely on the Wi-Fi 6 module for dedicated wireless connectivity.
Upgradable Camera Module (Optional):
Upgrade to a flexible 4K auto framing and tracking camera for a perfect video sharing experience. Simply add a mic of your choice to create an all-in-one collaboration solution.
A Peak Performing Digital Collaboration Hub:
The Q Series brings efficiency and high performance to the classroom and your teams. With added security, more customization, and faster performance, you'll enjoy a recipe for success. Connect with those near and far and collaborate on one interactive canvas with embedded collaborative tools and a variety of interface themes.