Kandao Meeting Pro - Distributor - 360° Conferencing Camera
Kandao Meeting Pro 360° ,

an all-in-one intelligent video conferencing system that offers a 360° video conferencing solution. It can be connected to a meeting room display or a digital whiteboard via USB or HDMI output. The Kandao meeting pro can also connect directly to your online meeting without being plugged into a computer. This feature allows you to connect to the web over Wi-Fi or Ethernet. You can even connect peripherals such as a mouse or keyboard to a USB port. Alternatively, you can use a USB connection to plug the camera into your laptop for a more traditional setup.
The Meeting Pro comes with a 360° video conferencing camera, 8x omnidirectional microphones with an 5.5metre pickup in 360°, and Hifi speakers with AI noise and echo cancellation, all in a single unit. This feature allows you to convert any space into a meeting room for small to mid-size meetings.
Here are some of the features of the Meeting Pro:
- 360° auto speaker tracking and framing HD camera
- Eight high-quality omni-directional microphones with a 5.5-metre range in 360°
- Onboard computer with MS Teams, Zoom, Google Meet, Webex and more
- Wireless presentation via Airplay or Miracast
- Onboard recording for offline sessions like hearings, training, interviews, etc via SD card slot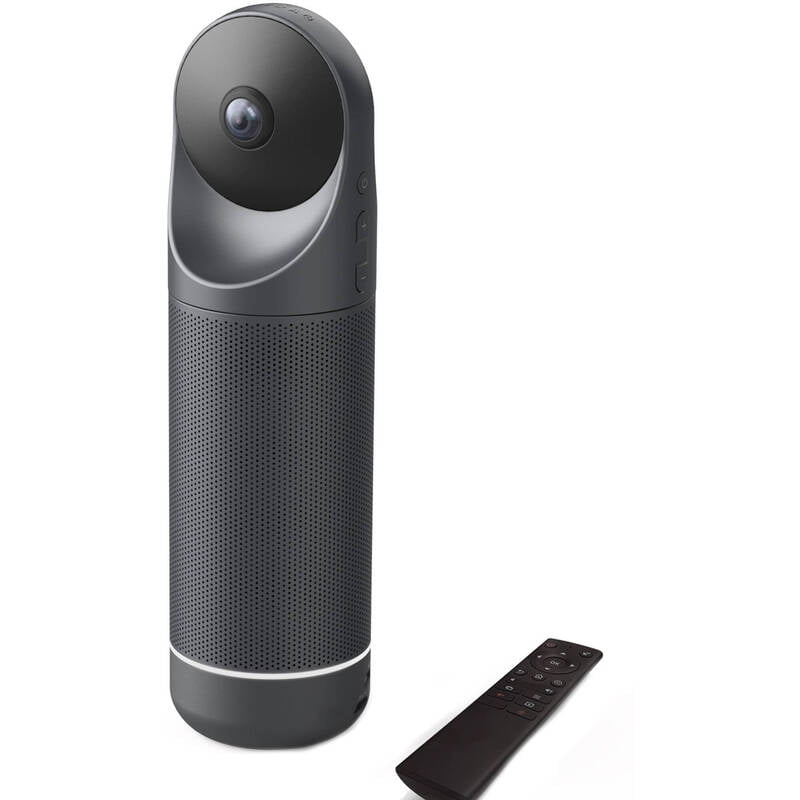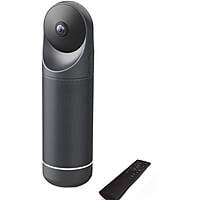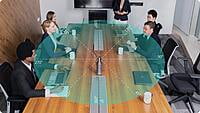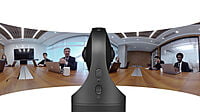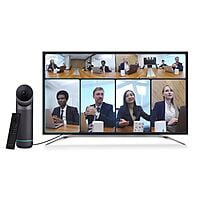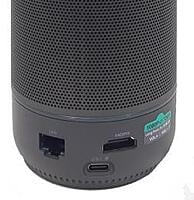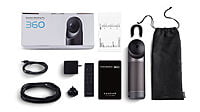 Product Details
Specifications and FAQs
The Kandao Meeting Pro is an all-in-one conference camera that offers two HD resolution options, 1080p30 and 720p30, and allows you to save your meetings to 64GB internal storage or an optional SD card. With an onboard Android operating system, you can easily download and use popular conferencing platforms like Zoom, Skype, and Teams. The camera is equipped with advanced algorithms that enable it to automatically track and focus on the active speaker. In case of multiple active speakers, the Meeting Pro splits the screen to display the whole meeting on top and closeup shots of active speakers below.
Introducing the All-in-One Conference Camera, the Meeting Pro. This camera is equipped with a dual-lens 360° camera that offers 1080p30 or 720p30 resolution output and an 18-foot diameter pickup range, thanks to its omnidirectional 8-microphone array. The full-duplex speakerphones are designed to minimize noise and echo, ensuring clear sound quality during meetings. Additionally, the Meeting Pro has 64GB of internal storage and the ability to record meetings to an optional SD card. It runs on the Android operating system and can easily download and run popular conferencing platforms such as Zoom, Skype, and Teams.
There are two operating modes available for the Meeting Pro device. Firstly, it can connect to an online meeting independently via an HDMI connection to a meeting room display, digital whiteboard, or projector. Secondly, it can be plugged into a Mac or Windows laptop (or desktop) through a USB connection.
The Meeting Pro device has an automatic tracking and focusing feature that will focus on the active speaker in a meeting. When there are a number of active speakers at the same time, the Kandao Meeting Pro will divide the screen into multiple segments and display the entire meeting across the top and closeup shots of the active speakers below.
To control many functions of the Meeting Pro device, a Bluetooth remote control is included. The remote control can be used to switch between 1080p30 and 720p30 resolution types, among other functions. Additionally, several of the functions can also be controlled via onboard buttons.
The Kandao Meeting Pro offers significant upgrades from the previous Meeting 360 system such as HDMI and Ethernet connectivity, an embedded Android system, SD card recording, wireless screen casting, and more.
1 x Kandao Meeting Pro camera
1 x Lens Cover
1 x storage bag
1 x remote control
1 x power adapter
1 x USB C to USB C cable (3.0m)
1 x USB C to USB A cable (1.5m)
1 x quick guide
1 x warranty card
Meeting Camera Specs
Resolution and Frame Rate

1080p HD

System Connection

USB-A

Auto Zoom

Yes

Auto Focus

Yes

Speaker Tracking

Yes

Camera Field Of View

360°

Onboard OS

Android

PC Required

No

Onboard Recording

Yes

Number of Microphones

8

Microphone Range

5.5 Metres in 360°

Built In Speakers

Yes

Warranty

1 Year

Built in Wireless Presentation

Yes

HDMI Out

1 HDMI OUT

Option To Pair multiple Cameras As 1

Yes, up to 4 cameras via NUC & Kandao Omni

Expandable Microphone Option

No, only multiple devices linked via Kandao Omni

Remote Control

Yes, with air mouse